Parent Directed
Parent Directed Home Education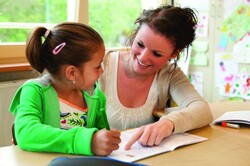 Ongoing involvement and support by the parent in their child's education represents a critical contribution to children's learning. As such, the parent directed education at home offered at Next Step recognizes the central role of parents in the education of their children. A most fundamental characteristic of a home education program relates to responsibility of supervision and instruction. You can choose to follow the General Learning Outcomes as listed in the Home Education School Act or the outcomes that are in the Alberta Program of Studies, or a combination of each. The parents have the responsibility of planning, supervising and administering their child's educational program. In the parent directed program, Next Step's program facilitator/teacher liaison, monitors your child's progress a minimum of two times throughout the school year.
For more information and to register with Next Step, contact us at (780) 464-1899 to speak with our facilitator/teacher liaison.
Funding for Parent Directed Home Education
You have access of up to $950 under this program for use towards activities, fees and resources for your child's education.
Parent Directed Home Education Handbook