Our Steps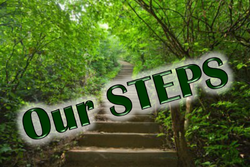 What Next Step Has Meant To Me
- by Micaela (Sep/16)
There are many reasons that Next Step is better than a regular school, and I could sit here for hours and list them all to you but I am going to focus on the most important reason that this school is the best place to be. That reason is simply the teachers.
In a regular school you are one of 30 students in a classroom. There is just no way that your teacher can possibly get to know all of you, and it is easy to feel like you are falling through the cracks. But at Next Step you work one on one with all of your teachers and you can connect with them in a way that you can't at any other school.
At Next Step the teachers genuinely care about you. They take the time to really get to know you. They care about your interests and plans for the future. They help you to set and achieve realistic goals that prepare you for your future beyond high school. At Next Step the teachers are never too busy to sit down and talk with you about anything. If you are having a problem, you can always depend on them without being afraid that they will judge you.
I went to Next Step for five years, and it was the best school experience I have ever had. My last year was particularly challenging because I was struggling a lot at home, my family was going through many difficult things at the time and I felt so hopeless. It was such a relief to be able to come to school every day and get away from everything causing me stress, and be surrounded by teachers that cared about me. Next Step was my safe place.
I want to thank all of my teachers for making my last years of school such a positive experience. Ms. Strong, Lesley, Susan, Michel, Dave, Kris, and of course Joanne, even though you are not technically a teacher you are such an important part of what makes Next Step special. You are all by far the best teachers I have ever had and I will never forget you, and the positive impact you had on me. Thank you for being so amazing.
Oursteps
- by Brayden (Oct/16)
My time at Next Step has been extremely rewarding. Next Step has brought me great success and even greater friends. Next Step and outreach schools in general tend to carry a bad stigma as they are known to be the schools where bad or problematic kids go, but that couldn't be more wrong. Next Step is a school with a very flexible schedule letting you learn at your convenience. So whether you're upgrading, working, or just need to get an education, Next Step is the perfect place. The impeccable staff at Next Step make you feel welcome. Every time you walk into the school you are greeted with a smile and a warm welcome. Everyone at Next Step truly cares about your growth and success as a student and a person. 
Next Step has a wide variety of courses to take as well from core courses and Phys Ed. to options and extracurricular activities; they offer more than enough courses to meet the requirements of graduation.
 Overall, Next Step is an efficient school with a positive environment and encouraging teachers. I feel privileged to attend Next Step.