Back to all posts
Posted on
Feed Your Future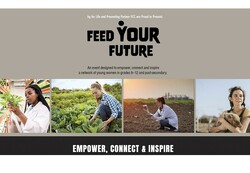 An event designed to empower, connect and inspire a network of young women in grades 9–12 and post-secondary.
Feed Your Future is an exciting virtual, half-day event presented for no charge by Ag for Life and Farm Credit Canada. The goal is to reach young urban and rural women of all backgrounds with an interest in agriculture and food production as a potential career pathway. Participants will have the opportunity to hear from industry leaders and distinguished professionals, as they explore the topics of networking, leadership, building your personal brand and are introduced to the vast diversity of roles tied to agriculture and food production.
Register for the FREE virtual workshop taking place on Wed. Nov.17, 2021 from 9:00 a.m.–12:00 p.m. (MST).