Back to all posts
Posted on
Next Step Ski Trip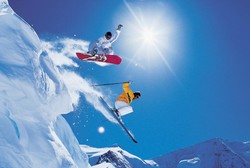 Attention all skiers and snowboarders!  Our Next Step Ski Trip is coming up on Friday, February 26th.  
Students will spend the day skiing/snowboarding. The breakdown of the cost per student (including GST) is as follows:
Lift ticket, ski rentals and one-hour lesson$29
Lift ticket, snowboard rentals and one hour lesson $32
Lift ticket and one-hour lesson  $24
Helmet $5
Students will NOT be allowed on the hill without a helmet and permission forms need parent/guardian signature (especially if the snowboarder wants to use the terrain park).  If you need a form - see Susan today!