Back to all posts
Posted on
Reach Out - Speak Out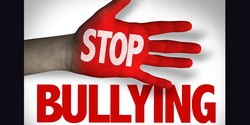 Welcome back, Next Step!  This week marks our Bully Awareness Week - a time where we focus on promoting healthy relationships by reaching out to others and prevent bullying by speaking out when they see it happening. Events this week include:
Bully Awareness & Prevention Week Poster and Poem Contest – Students will be encouraged to submit a poster/poem/piece of art that represents how to prevent bullying and increase connectedness in our schools. The winner will be awarded with a Next Step toque.
Positive Ticketing – Spread kindness! The goal of this activity is to notice kindness in the school and to recognize those who act kind. When a student sees someone acting kind, they will give that person a 'positive ticket' to recognize the kind act. In addition, the person demonstrating kindness will be given two additional tickets to be passed on when they notice other acts of  kindness that week.
Cyberbullying Awareness – All students will attend a presentation from the John Howard Society on Cyberbullying on Wednesday, 2:30 - 4:00.
Lunch Connection – Students and staff will participate in a 'family style' hot lunch on Friday, where all students and staff will eat lunch together. During this lunch, a short video on kindness will be viewed. Part of the lunch will also include conversation starter activities to encourage students to make connections with their peers.