Back to all posts
Posted on
Your Future: It's A Matter of Choice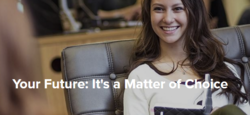 Your Future: It's a Matter of Choice is Elk Island Public Schools' (EIPS) annual post-secondary and career event bringing together numerous colleges, universities, technical and private vocational schools, and career displayers. This event provides an opportunity for students and their parents/guardians to talk to and ask questions of potential post-secondary institutions or employers. And, it's free!
Students in grades 9 through 12 throughout EIPS and from surrounding schools divisions are welcome to attend.
Tuesday, November 1, 6pm-8pm at the Holiday Inn Sherwood Park Conference Centre (2100 Premier Way, Sherwood Park)
For more information, check out http://www.eips.ca/students/your-future-its-a-matter-of-choice.