New Administration at the Sherwood Park Outreach site!
Please come in and meet Joseph Clark [Joe] the New Principal for all the Outreaches and Karen Ramsey the new Assistant Principal for the Sherwood Park Outreach .
Registration 2018 - 2019
Interested in Next Step for the 2018 – 2019 School Year?
Come on in or Give us a call!
The Sherwood Park Outreach [SPO] is open M, T, Th, F from 8:30 AM to 4:00 PM; W from 8:30 AM to 1:00 PM.
If you are at a neighbouring EIPS high school and want to take a course you will need permission from your current school to come, so please check in with your Principal, Assistant Principal or Counselor before coming.
If you want to be a FULL TIME student at the outreach and are under 18 we will need a parent signature, so bring a parent or guardian.
If you are over 18 you can sign your own forms!
Come in and see our school and we will design a flexible program that suits you!
Enhancing Literacy and Numeracy
As part of Elk Island Public Schools' (EIPS) ongoing efforts to enhance the literacy and numeracy of students in all grade levels, the Division is once again planning to administer two assessment tools during the 2018-19 school year—STAR 360 and Math Intervention/Programming Instrument (MIPI). The tools focus on literacy and numeracy, are digitally based and offer an opportunity for students to demonstrate their learning. The goal: to provide timely information to teachers, help enhance classroom instruction and ensure student learning needs are identified.
In September and May, EIPS students in grades 2 through 12 will complete the STAR 360 assessment, which evaluates reading comprehension. Grade 1 students will take the STAR 360 test. The assessment takes approximately 20 minutes and can be taken on any digital device. Also, students in grades 2 through 10 will complete the MIPI assessment, which is a mathematical screening tool used to inform teachers about a student's math skills. For students in grades 7 through 10, the MIPI takes approximately 50 minutes and for students in grades 2 through 6 it takes approximately 20 minutes. The results of each of the assessments provide the teacher with a clearer picture about a student's learning needs and helps determine if subsequent instructional planning is required.
The scores of the assessments are not used towards a student's grade and there is no need to study ahead of time. They simply provide the teacher with information to better understand where each student is in terms of reading comprehension and mathematical ability. If, after analyzing the results, it's determined a student can benefit from extra support, the teacher will contact the family to discuss possible support strategies.
For more information about the Division's STAR 360 and MIPI assessment tools, contact Deb Barron, the Director of Curriculum and Instructional Supports, at 780-464-3477.
What's New at Next Step Sherwood Park
Thursday Thankfulness
Posted on

May 5th, 2016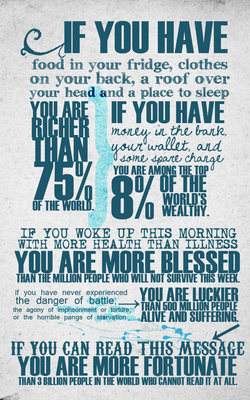 Do you take time each day to recognize the things you are thankful for? Having an 'Attitude of Gratitude' means…
Higher optimism and less depression
Better sleep
Reduced stress-related heart disease
A better well-being
Keeping a gratitude journal is a great way to focus on the good things in your life, and the people who help us achieve that goodness. Here are some questions to get you started!
Instead of making a wish list, make a wish-granted list. How do you appreciate those granted wishes?
When is a time that you've received an act of kindness & how did it make you feel?
What aspects of yourself are you thankful for?
What is a proud moment in your life & why?
What is a hard lesson you've had to learn & what did it teach you?
When is a time that you made a positive impact on someone else's life?
What are some of the best compliments you've ever received?
What are some of the little things in life that make you happy?
Who are some of the people in your life that you're thankful for & why?