Back to all posts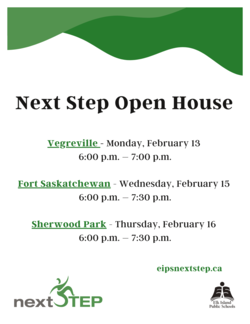 Next Step Open House week! We will be hosting 3 separate events and invite students and families to join us and hear about the varied educational opportunities available. 
We appreciate the opportunity to engage, interact, and support all families. We are hopeful you choose to be part of our alternative learning environment and believe strongly in fostering an accepting, flexible, and individualized learning culture built on respect and responsibility.
February 13: Vegreville campus 6 p.m.
February 15: Fort Saskatchewan campus 6 p.m.
February 16: Sherwood Park campus 6 p.m.